CONTACT US
Law Offices of Mark A. McLaughlin
5109 Lone Tree Way, Suite B
Antioch, CA 94531, USA
TEL:
925.754.2622
FAX:
9257541104
E-MAIL:
nmclaug226@sbcglobal.net
Residential Evictions Attorney or Lawyer
Primarily Serving Antioch, Pittsburg, Brentwood, Oakley, Concord and Bay Area CA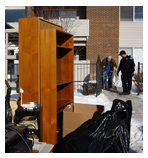 What comes to mind when you have a residential tenant who is not paying their rent? Speed. Speed at removing the non-paying residential tenant as fast as possible. We understand you have a mortgage to pay, tax liability and perhaps another career besides managing your hard-earned investment property. That's why as soon as we are hired we start working on your case that same day. Often within hours of speaking with you over the phone, we can file and put out for service an Unlawful Detainer action, or issue a 3 Day Notice to Rent or Quit. The entire process usually requires only between 3 and 5 weeks. Experience dictates that it is critical to initiate an Unlawful Detainer lawsuit as soon as possible; providing more time for the tenants only increases the amount due, and leads to further problems.
Besides a tenant's failure to pay rent, we have also successfully represented Landlords resolve the following problems:
Damage caused by tenants
Violation of contractual terms
Criminal activity
Nuisances - including noise complaints, unsafe conditions, failure to maintain a clean and sanitary premises
Abandoned property
Call (925) 754-2622 and schedule an appointment today. We can help you avoid common problems and mistakes, and find the best cost-effective strategy.
Law Offices of Mark A. McLaughlin
5109 Lone Tree Way, Suite B
Antioch, CA 94531, USA
TEL:
925.754.2622
FAX:
9257541104
E-MAIL:
nmclaug226@sbcglobal.net
PRIMARY PRACTICE AREA
While I enjoy the pleasure of serving clients from all over the Bay Area, my clients mainly come from Antioch, Brentwood, Pittsburg, Oakley, Concord, Martinez, Pleasant Hill, Walnut Creek, Oakland and San Francisco.
RELATED SEARCHES
Antioch Residential Evictions lawyer | Residential Evictions lawyer Antioch | Residential Evictions lawyer of Antioch | Brentwood Residential Evictions lawyer | Residential Evictions lawyer Brentwood | Residential Evictions lawyer of Brentwood | Residential Evictions lawyer | Residential Evictions lawyer Pittsburg | Residential Evictions lawyer of Pittsburg | Residential Evictions lawyer | Residential Evictions lawyer Oakley | Residential Evictions lawyer of Oakley | Concord Residential Evictions lawyer | Residential Evictions lawyer Concord | Residential Evictions lawyer of Concord